Camp China occurs at the YMCA Blue Ridge Assembly in western North Carolina at Black Mountain. Nestled in the beautiful Blue Ridge mountains near Asheville, North Carolina, YMCA Blue Ridge Assembly is a full-service conference center situated on 1200 acres of woodland beautified by mountain streams, wildflowers, ridges, valleys, and spectacular views.  Available Lodging is marked with "2022"
Family Lodges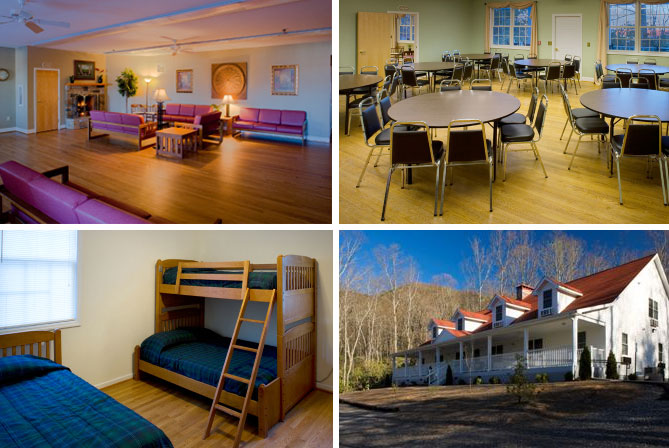 The Family Lodges offer modern comforts on a beautiful hillside looking into the Craggy Mountains and are perfect for family-style Camp China. Families who met at Camp China prefer the more intimate setting of the lodges to catch up on news and happenings. The family lodges that we use are air-conditioned for Summer comfort.
---
Barnhardt Lodge
Barnhardt Lodge is used for both lodging and family cooking activities. It has a fully equipped kitchen, covered porch, dining room, and a large common area with a beautiful stone fireplace. Rooms in Barnhardt share baths that are between, but not connected to, 2 rooms.
Next door to Barnhardt is Hibbard Hall. It can sleep up to ninety people in twenty-three bedrooms with bunk beds and private baths. A large common area includes a kitchenette, and a covered porch offers a unique view of Lee Hall, making this lodge the perfect location for our families.  All rooms are reached by stairs.
---
2022 – Asheville Hall
Asheville Hall is adjacent to Blue Ridge Center in a historic 3-story building. Rooms are comprised of a selection of 2-person, 3-person, and 4-person capacities with private baths.   Rooms in this building have single and double beds.  We usually are assigned 2 – 3 full floors in this building.  Rooms are reached by stairways.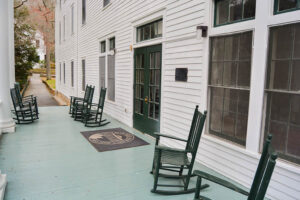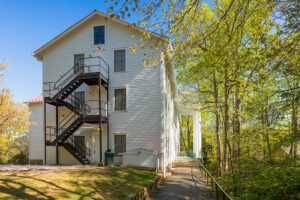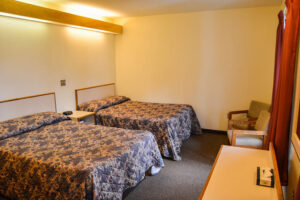 ---
2022 – The Blue Ridge Center

The main lodge, the Blue Ridge Center, offers hotel-style rooms. Each room has two double beds and a private bath.  Camp China utilizes Blue Ridge Center to house families with our youngest campers and campers with special physical or medical needs.  The Blue Ridge Center also has meeting and dining facilities in the building.   The lobby of BRC is used for registration and a group meeting place.  This is the only Building with an elevator.
---
We cannot guarantee lodging requests.  Camp China is limited by the room blocks assigned to us by the Blue Ridge Assembly.