Our Story
Our Camp China was founded in 1999 by Nelda Bradley, Shari Coldstein, Kate Whetten and Debbie Lucas. Their families met through their local FCC and they started talking about the idea of some kind of camp for their children. They attended a heritage camp for adoptive families with children from China for two years, then looked at each other and said "we can do this" and they did. 2011 marked the 12th anniversary of Camp China (skipped 2004). The first camp was a one day event in Cary, NC.  Many families attended and it was deemed a success.  So the plans were drawn up for a weekend camp. The first year at
the Blue Ridge Assembly in Black Mountain (Asheville), North Carolina was in 2000, the year of the Dragon. There were 40+ families. At the time the oldest child adopted from China was 8. In 2015, most of our counselors had attended Camp China as students.  Our oldest counselors are seniors in college or graduate students!
In 2019, we celebrated our 20th Anniversary with camp at full capacity.  Our programs have shifted from 100% youth programs to activities for students and parents.  Parents can decide how busy that they wish to be.
2020 and 2021 saw Camp China interrupted by the COVID 19 pandemic.   During these two years, Camp China was presented virtually with online presentations and programs by our Guest Speakers, Instructors, Counselors, and Staff.
---
Our Counselors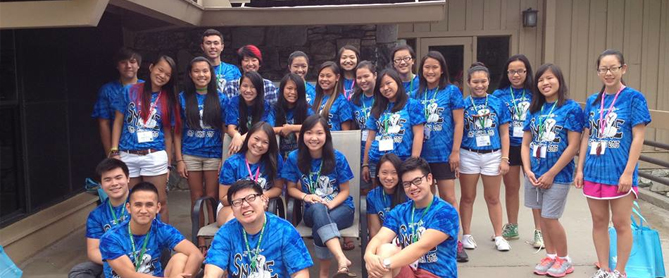 Camp China is a volunteer-run organization composed of Adoptive Parents, Adoptees, and 1st generation Asian Americans. One of Camp China's most important assets is our counselors. All counselors are of Chinese or Asian descent, or are siblings to Asian adoptees. And, we try to have a good mix of male and female counselors.  The counselors are role models for the kids. One of the most unexpected things we have learned from camp is how much working with the kids has impacted the counselors. For the first 5 years or so most of the counselors were 1st generation Americans. Most did not give much thought to their own cultural heritage outside of home/Chinese school. That is until they got involved in Camp China. Camp China instills a greater sense of pride in their own heritage and they enjoy working with the kids. One counselor told us that Camp China changed his life and he wants to adopt a child from China. 2010 was a benchmark year for female counselors. For the first time all of the female counselors were adopted from China and all but one previously attended Camp China as a camper.
2019 celebrated 20 years of Camp China with 110 youth campers and a total of 300 people on the mountain.